Wheeled Tractor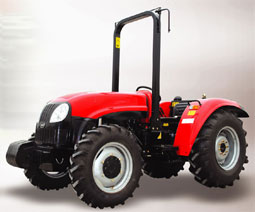 75-95HP 4-Wheel Drive Tractor
YTO-ELX754F/ELX854F four wheeled tractors are self-developed high power agricultural vehicles which have use advanced technologies within a global range. They are used for orchards or other special operations.
Features
1.Applicable to orchards operations due to compact structure, light weight, narrow tread and central ROPS;
2.Powerful and green engine with minimal vibration due to secondary balancer;


3.With European technologies, the transmission system can have synchronizer installed for non-stop gear shifting, thus improving the working efficiency.
4.Independently operated double-acting clutch easy to operate;
5.The tractor features hydrostatic steering with independent oil circuit. The steering wheel is adjustable to ease the driver's operation.
6.Pedal-operated hydraulic disc service brake saves effort in operation. The parking brake operated by the handle is safe and reliable.
7.Synchronous and independent dual speed power output from PTO, 2 sets of hydraulic output for hitching implements.
Product Parameters
Model
YTO-ELX754F
YTO-ELX854F
Overall Dimension of Cab (L*W*H)(mm)
4250x1500x2275
4250x1500x2275
Min. Operating Mass (with Cab) (kg)
3100
3100
Max. counterweight mass (front/back) (kg)
4*20/0
4*20/0
Engine
Model
4RBT
4RBT
Type
4-cylinder, vertical, water-cooled, 4-stroke, direct injection combustion chamber, naturally aspirated
Displacement (L)
4.58
4.75
Rated Power (kW)
55
62.5
Rated Speed (rpm)
2400
2400
Transmission
Gears
12F+4R
12F+4R
Forward speed (km/h)
1.80-29.74
1.80-29.74
Reverse speed (km/h)
4.69-14.07
4.69-14.07
Tire
Front
9.5-20
9.5-20
Rear
14.9-24
14.9-24
Tread
Front wheels (Adjustable) (mm)
1260
1260
Rear wheels (Adjustable) (mm)
1150
1150
Min. Ground Clearance(mm)
300
300
Min. turning radius(m)
6.5±0.3
6.5±0.3
PTO
Rear wheels (Adjustable) (mm)
Independent and synchronous
Rotation rate(rpm)
540/1000
540/1000
Power(kW)
47
53
Tilling depth control method
Force control, position control, force and position control, float control
Lifting Force
At 610mm (KN)
≥16
≥16
Hinge point (KN)
≥23
≥23
Other Products